Looking for a budget friendly destination in Europe? Then Dublin won't be in your Top 10. The capital of the Emirald Isle is not exactly known for being a cheap destination. But please don't skip Dublin, even if you're traveling on a budget. It's perfectly possible to enjoy ancient churches, the best art and great museums without breaking the bank. In this guide you'll read that the best things in Dublin are free.

Trinity College
The oldest university in Ireland, dating back to the 16th century, is a wonderful place to get away from the hustle and bustle of the city centre of Dublin, that never seems to sleep. With over 40 acres of beautifully landscaped grounds it's hard not to get lost on this property full of Georgian university buildings, contemporary libraries and lush gardens. Exploring the grounds of Trinity college is free. It is however well worth the €9 admission to go and see the famous Book of Kells and Trinity Library, true works of art.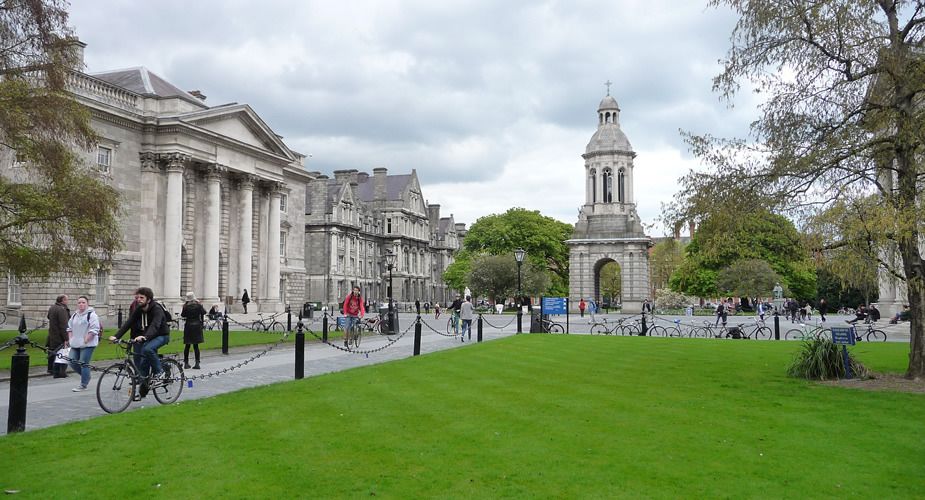 National Gallery of Ireland
Since Ireland is not exactly known for its tropical climate, it's only realistic to expect some rain while you're visiting Dublin (although I've always been blessed with great weather during my citybreaks and even got a sunburn in Howth, oh my!). But dreary weather is a great excuse to visit a museum (well, that or the pub) and I recommend the National Gallery of Ireland in any weather. The admission is free and you'll need a couple if hours browsing the collection of European and Irish fine art.
Chester Beatty Library
Visiting the Chester Beatty Library is catching two birds with one stone, really. First of all, it is set in Dublin Castle. Joining a tour to visit the castle will set you back a couple of euros, but visiting Chester Beatty Library is completely free of charge. Despite of what the name implies, this free museum is much more than just a library. It's more like a treasure chest.
The museum was founded in the 50's by the American Chester Beatty, who had a nose for art and everything fine. The collection consists of a breathtaking collection of rare books, clay tablets, fragments of early Christian gospels dating back to the 2nd century and all sorts of art from India, the Ottoman empire, Japan and China.

The Hugh Lane
Even though Dublin is packed with historical remains, from Norman, Viking and Georgian times, the city also has a modern and cotemporary side. Lovers of modern art don't even have to look far, just go to The Hugh Lane (Dublin City Gallery) for the inspiring collection. Don't skip the incredibly cool studio of Dublin-born painter Francis Bacon.
A tour of Glasnevin Cemetery
Glasnevin Cemetary is Ireland's Père Lachaise, the countries most important burial site. Basically everyone who was someone in the last 200 years of Irish history is burried here, like Civil War Republican leader Michael Collins, trade unionist Jim Larkin and poet Gerard Manley Hopkins. Don't skip the museum: it tells the history of Ireland through the lives of the people burried at Glasnevin Cemetary. There are free tours of the grounds, three times a day.
St. Stephen's Green
As soon as the sun starts shining, half of Dublin can be found relaxing and catching some well deserved rays of sun in St. Stephen's Green. When the weather is nice, there is no better place in the city to go for a walk and enjoy the beautiful flowerbeds or sit on a park bench for some serious people watching. The park is in walking distance from the city centre.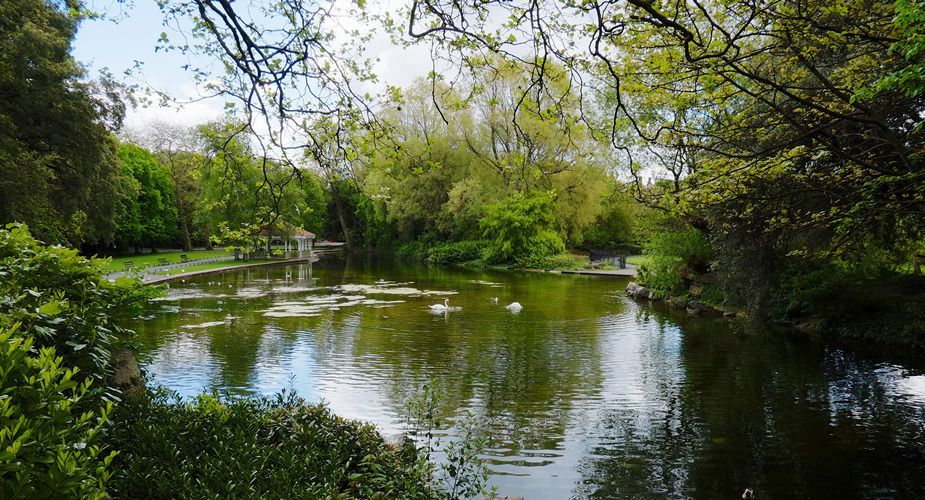 Dublin for free: Dublin walking tour
It's no secret: I love free walking tours! I think they're especially nifty if you're in a city for only a few days or if you feel really disorientated. When I went to Berlin for the first time I felt completely overwhelmed and didn't know where to start exploring all the goodness Berlin had to offer. The free walking tour was a life saver and really helped me to make plans for the rest of my stay. Oh, and I met some nice people on the tour too!
Very good news: there's also a free walking tour in Dublin. The three hour tour will show you the top sites and lesser known gems. And you'll travel through time exploring the remains of Celts, Vikings and Romans. The tour runs twice a day.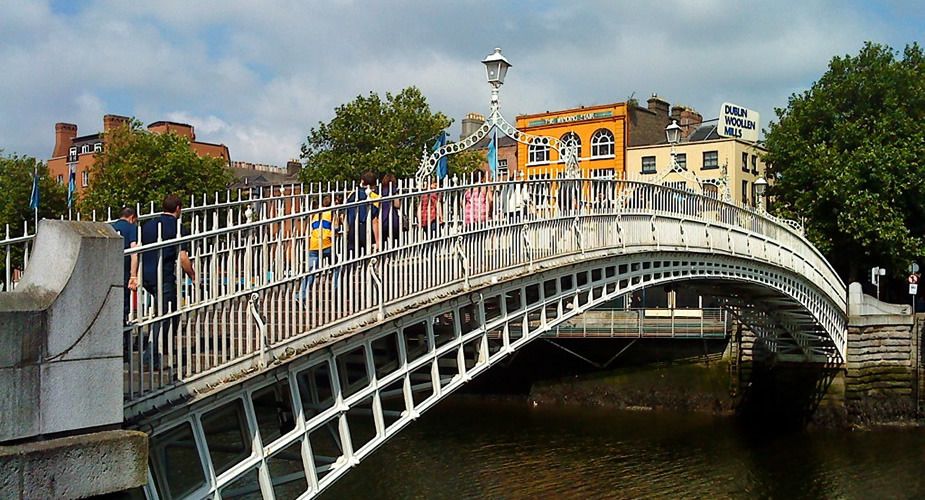 Grab a Dublin bike
Don't feel like riding the bus? Register with Dublin bikes online and grab a rental bike from various racks across the city. You can ride them for free the first 30 minutes, so that basically enough to get you from A to B anywhere within the city centre. Don't forget to ride on the left though! If you're pressed for time, if you are in Dublin for only one or two days, I highly recommend joining this highlights biking tour.
Streetart in Dublin
Streetart in Dublin is not as evolved as in London, Berlin or Athens, but that doesn't mean there isn't anything interesting to see. U2 fans will love going to Windmill Lane, residence of Windmill Studios where The Joshua Tree was recorden. The streetart surrounding the studio are all U2 inspired and lots of fans will leave their favorite lyrics as a lasting memory of their Dublin visit. Other places in Dublin to spot some excellent streetart are on and around Francis Street, The Tivoli Car Park and the Quays.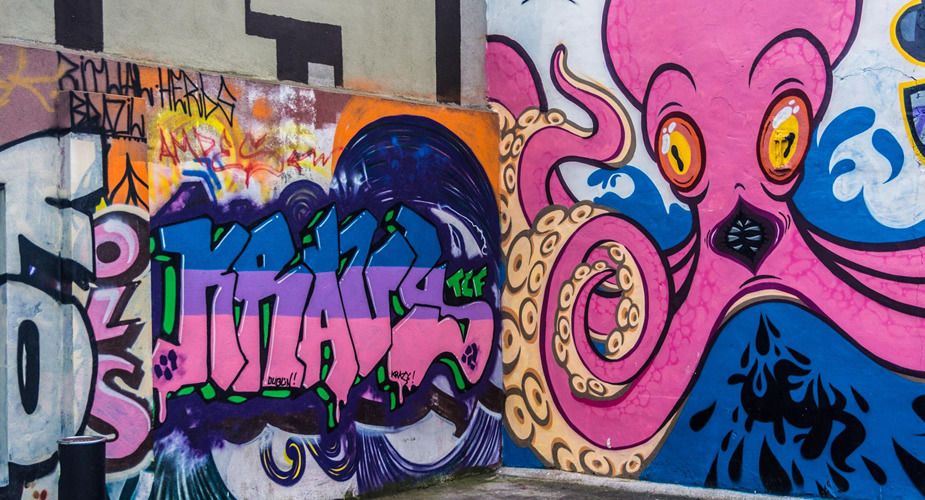 Dublin for free: eating on a budget
Market Hall
This tapas bar is a new kid on the block and the perfect place for a great bite to eat, on a budget. Dishes are about €6 a piece and you have a wide choice of fish, meat and veggie options. Ordering the zarzuela and fish skewers is highly recommended.
Boulevard Café
As far as dining in Dublin centre goes, this café is excellent value for money with specialties like duck confit going for €10. The salads and burgers are around the €8 mark.
Jo'Burger
I am one of those people absolutely loving the current 'gourmet burger' trend, so I just had to include Jo'Burger on the list of cheap eats in Dublin. A burger with all the trimmings will set you back about €12,50 and you can order a salad for less than €10. It's also a great place to get a 'spiked' drink.
Dublin for free: sleeping on a budget
Generator
Location, location, location. This boutique hotel is right next door to the Jameson Distillery, has simple but clean and spacious double rooms and a fun bar to have pre-dinner drinks.
Kilronan House
Gorgeous B&B in Georgian style, right in the centre of Dublin. A perfect place if you'd like to stay in a homelt guesthouse with warm and fluffy bedspreads and have your breakfast of eggs and smoked salmon served in a cosy dining room.
Save on Pinterest!
Do you like my articles? Well, that's excellent! I have more content in English, hop on over!
Follow me on Bloglovin' and be the first to read my newly published articles.