Düsseldorf versus Cologne
Düsseldorf and Cologne are known to be rival cities in German: they only lie 40 kilometres apart and have a lot in common, but are in many aspects rather different. When you have the option: visit both Cologne and Düsseldorf. But if you are lacking time, you can pick the city that speaks most to your interests.
When you ask locals which is best, Cologne or Düsseldorf, you'll quickly find yourself in de middle of a heated discussion. The rivalry between the two cities is as alive as it was hundreds of years ago. Though both located along the Rhine River in the North Rhine-Westphalia state, Cologne and Düsseldorf are rather different in architecture, sightseeing, shopping and atmosphere. I was lucky enough to visit both cities over the last few months and can see the attraction and distinction in both. So let's compare.
For history lovers
There's no real question as to where history fanatics should go: Cologne. Even though both Düsseldorf and Cologne have a very cosy old town filled with pastel coloured half-timbered houses, Cologne has a lot more historical sights. And it's no wonder why. The city used to be a Roman city, founded over 2000 years ago and a very important trading hub. Later it became a very momentous site to the Catholic church, which is pretty obvious from the most dominant sight of Cologne: the Dom church.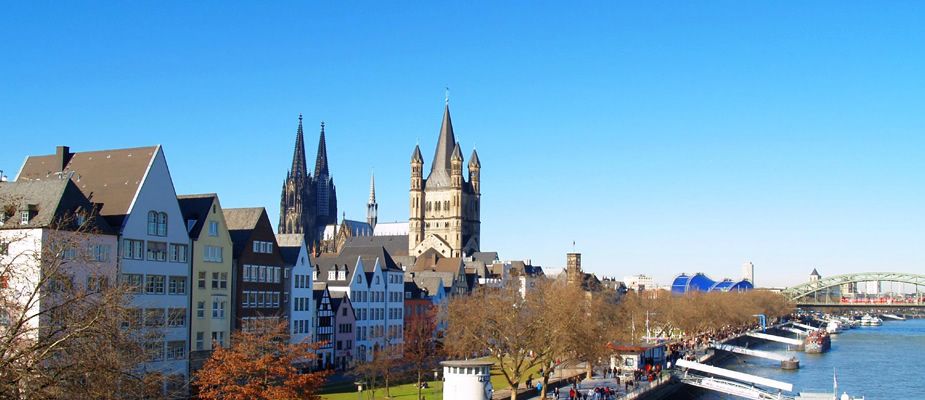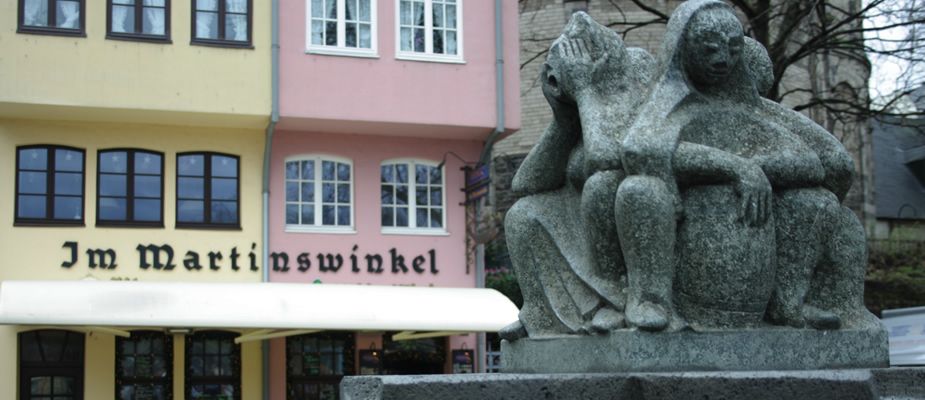 Düsseldorf however, grew much more organically from a village to a city. And even though both cities were bombed to pieces during the second World War, Cologne is still scattered with interesting historical sites such as the ancient archaeological excavations near city hall, several churches and the medieval ramparts in the Severin neighbourhood.
Cutting edge architecture
Due to both cities being damaged badly during the Second World War there were many opportunities for architects when the cities were rebuilt. And even though the Rheinauhafen in Cologne has had an impressive make-over, the cutting edge architecture of the Medienhafen is Düsseldorf is an absolute winner. It's such a joy to see the Gehry buildings from all angles and I also loved the colourful 'flossis', made by artist Rosalie, that are climbing an old warehouse. Furthermore, Medienhafen has become a hip area with fine restaurants and great clubs and hotels.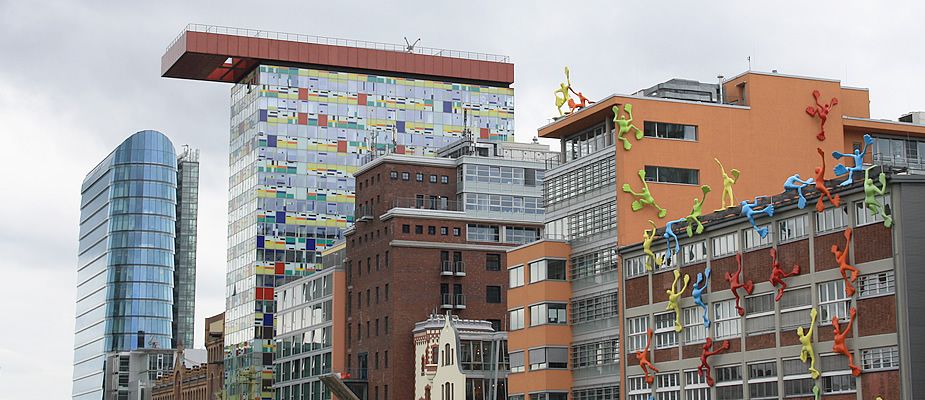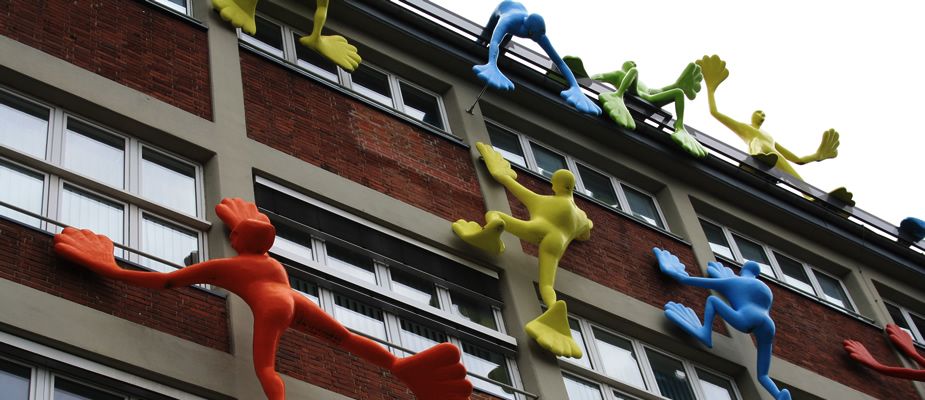 Shop 'til you drop
Cologne and Düsseldorf are both fine destinations for visitors wanting to spend some euros. Düsseldorf has the famous Königsallee which was described to me as 'One of the most expensive shopping strips, like tax-free shopping without the 'tax-free' part' and that is rather accurate. You'll find a huge number of flagstone from big names and brands on this street, as well as the famous German department stores. But Düsseldorf also has a lot of options if you're looking for something original and quirky. Fliggern is an arty neighbourhood with small boutiques, whilst Unterbilk is the place you go to if you feel like shopping for vintage.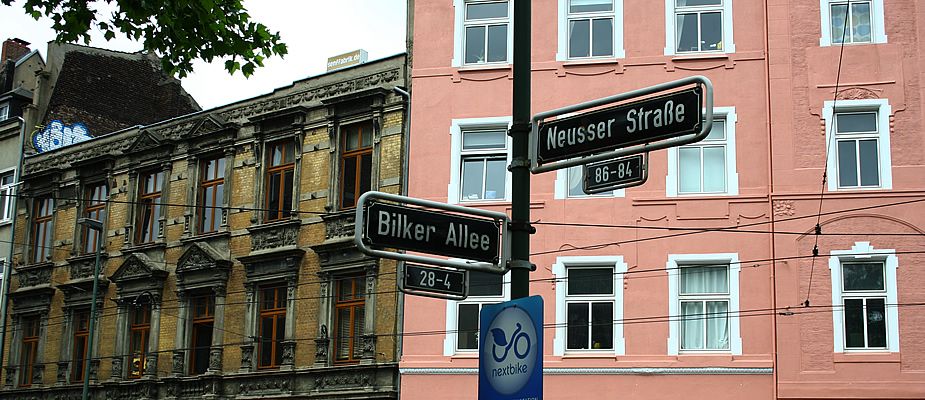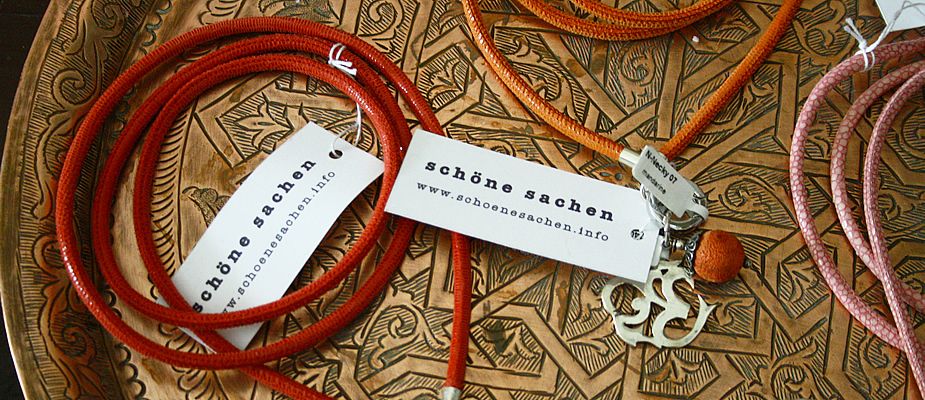 Not so many large flagstones in Cologne, but all the big brands seem to have settled in the city centre. Plus, there is some exquisite shopping to be done in the Belgian quarter, near Rudolph Platz U-Bahn station. The neighbourhood is like one big nudge to the 50's and 60's filled with fantastic vintage shops. Go to Maastrichterstraße and Brabanterstraße if you're up for young designers. My favourite place is Schee which sells amazing graphic designs bu German, Dutch and Scandinavian artists. How we live is the place to buy beautiful things for your home.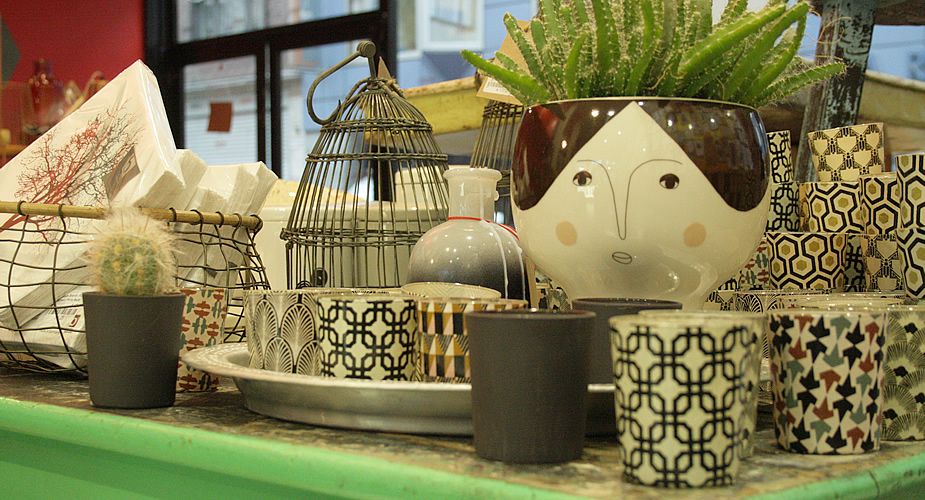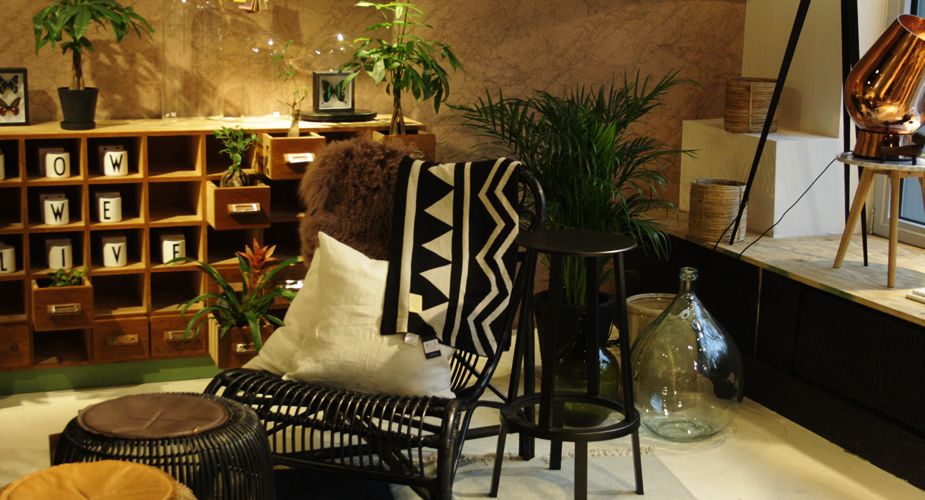 Museum enthusiasts
With over 20 museums Düsseldorf must beat Cologne in this regard, right? Maybe, so let's look more closely. 'Cause quantity is not always quality. However, in the case of the Düsseldorf museums, it is. Most of them are truly world-class and cultural institutions. My personal favourite was the K20, which is actually part of three museums. Here you'll find a fantastic collection of contemporary art and clever exhibitions. But there are also smaller and cute museums, such as the film museum.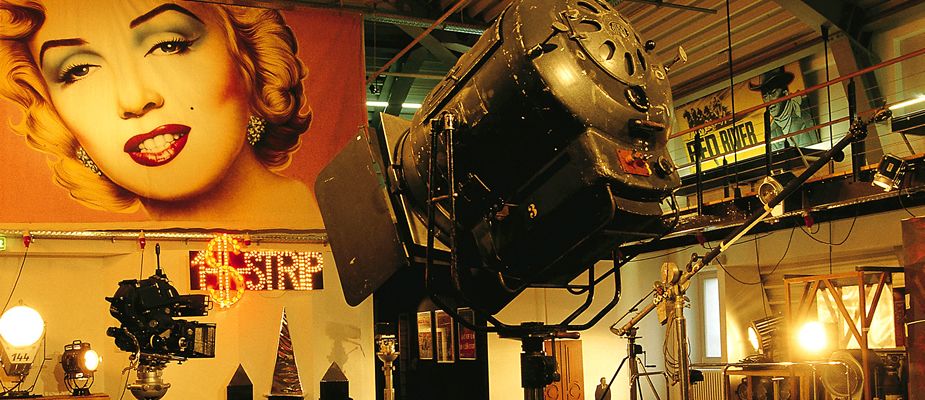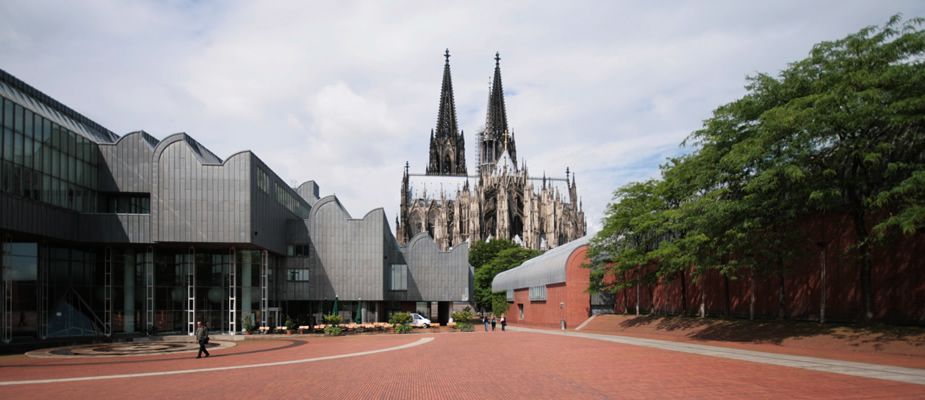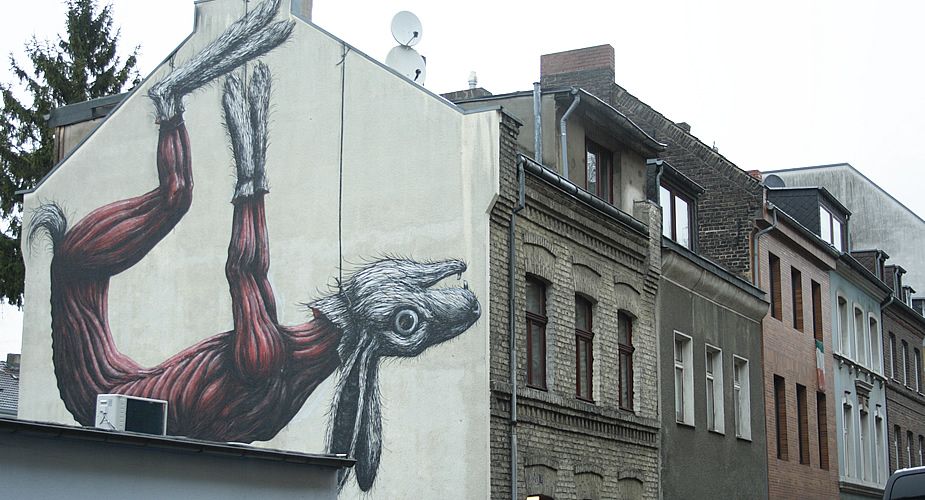 Cologne may have not this much museums, but the ones it has are absolutely exquisite. The Ludwig Museum, for example, has the largest collection of Picassos outside of France and Spain and The Lindt Chocolate Museum is a good excuse to indulge your sweet tooth. Having said that, Cologne has one thing over Düsseldorf: street art. Head to the Ehrenfeld neighbourhood to see some fantastic works, like the one made by famous street artist ROA.
Hotels in Düsseldorf and Cologne
Obviously, I haven't visited all hotels in both cities, just to compare them. But there are some things to consider before you book a hotel in either city. Now, both Cologne and Düsseldorf have a fine selection of boutique hotels and luxurious, comfortable places to stay. The rates are a big difference. I found Cologne to be rather expensive. A double room in a more up class hostel already sets you back €100 a night. Honestly, I hope for something more than a hostel, for this amount of cash. One hotel in Cologne with good value for money is Hotel Chelsea in the hip and bustling Belgian Quarter.
In Düsseldorf, you can find a number of four and five-star hotels, just outside the city centre where you can stay for around €80 a night. And a big plus: when you stay in any Düsseldorf hotel, you are given a free Düsseldorf Card for your entire stay, which offers you free use of the public transport, free access to museums and a lot of fun discounts. One of the four-star hotels you can stay at for a fair price is Hotel Lindner, it's a little outside the city centre, but you'll get to the old town in a heartbeat by tram. If you feel like staying in the heart of the action, Stage 47 is a lovely, centrally located boutique hotel.
Have you been to Düsseldorf and Cologne?
What do you think? Do you prefer one over the other?