It's very easy to write about Utrecht and tell you how great the city is, a little too easy. Because, I am so biased. Utrecht is my hometown and I love living here. But since Utrecht will be the décor of the start of this year's Tour de France, you may get curious about this beautiful Dutch city and all it has to offer. So, hop on the back of my bike as I will take you along my favorite parts of town.
To say that Utrecht is as old as the hills may be a bit of an exaggeration, but Utrecht history does date back to Roman times. The longest road in the city was already there over 2000 years ago and used as a supply route for the Roman garrisons stationed in Utrecht. The remains of Roman life were actually found in the heart of town, underneath the central square of town: Domplein. Today you can explore the remains of the long history of Utrecht, just grab a couple of flash lights and go DOMunder.
While you are there, you'll also be able to see traces of the historical event that scarred Utrecht the most. You probably noticed the Dom tower and church not being attached anymore. Cause? A hurricane badly damaged the Dom in the 17th century, seperating the church from the tower for good. If you climb the tower (and you should, the views from the top are amazing) you can still see the outlines of the old church on the square beneath you.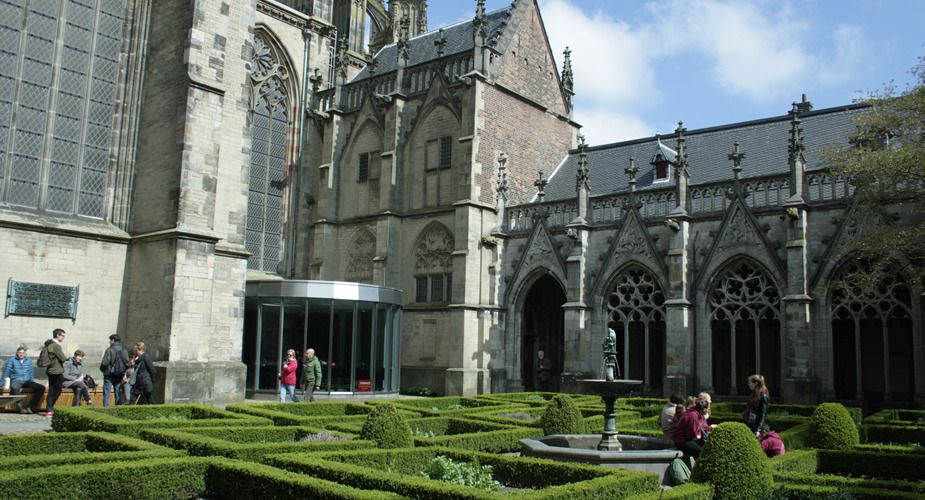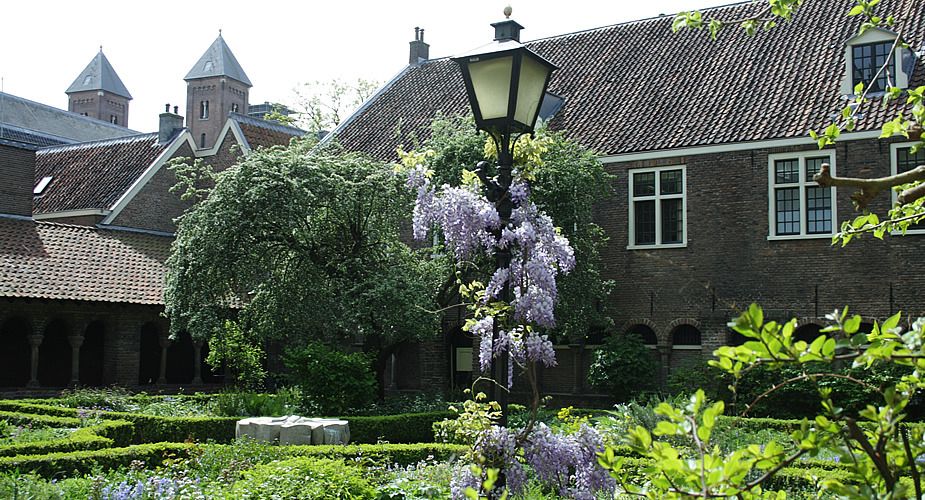 Cutting edge museums
But besides canals, windmills and fortresses, Utrecht is also home to some cutting edge museums. There's the Catherijneconvent with hundreds of years worth of religious art, Centraal Museum which owns Dutch historical and contemporary art and of course Rietveld Schröderhuis. The latter was designed by Gerrit Rietveld, who fully implemented it in 'De Stijl', an art movement that was very popular in the 1920's. The owner of the house, Truus Schröder-Schräder, lived there from 1925 until she passed away in 1985.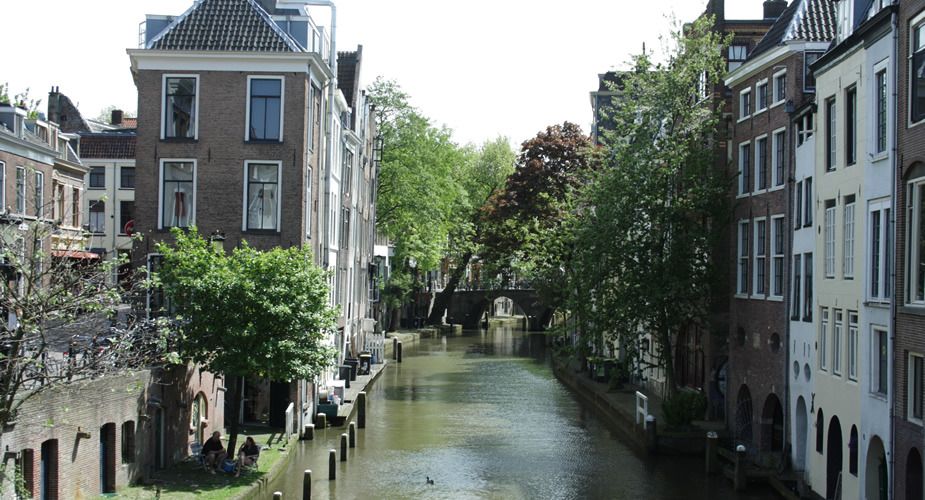 Street art in Utrecht
Utrecht definitely isn't stuck in the past. A small stroll outside the city center will reveal some pretty cool street art, for example near Asch van Wijckskade, the Pijlsweerd neighborhood and Vogelenbuurt. Most street art depicts the history of the particular area. For example, in Vogelenbuurt you'll find lots of street art of former crafts and professions that were practised in the neighborhood, like milkman, grocer and tobacconist. Though on some building façades you can see maps of what the neighborhood would have looked like a century ago.
One of my favorite murals is that in the first picture. It says 'Afra, will you marry me' in Dutch, and is made by a famous Utrecht street artist 'Jan is de man' who made this work in one night, with some friends, to propose to his girlfriend. After some poking around I found out that she said yes the minute she saw his work. How is that for romance!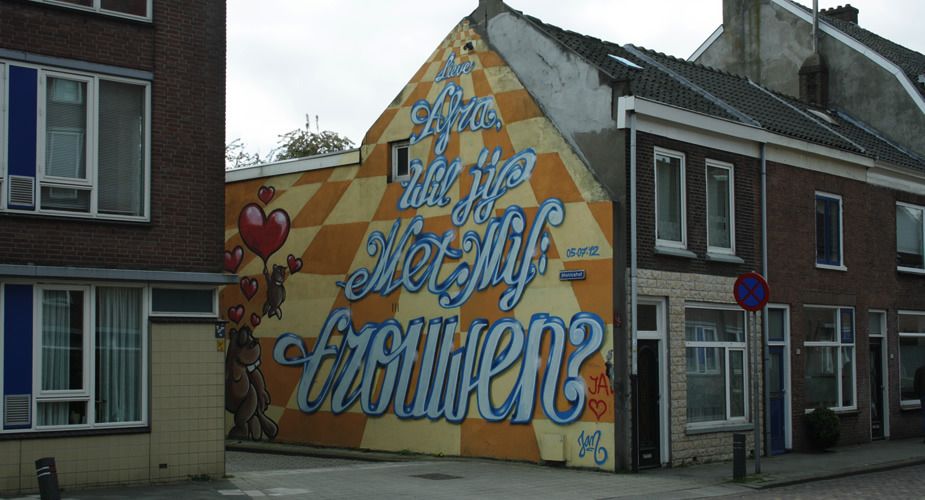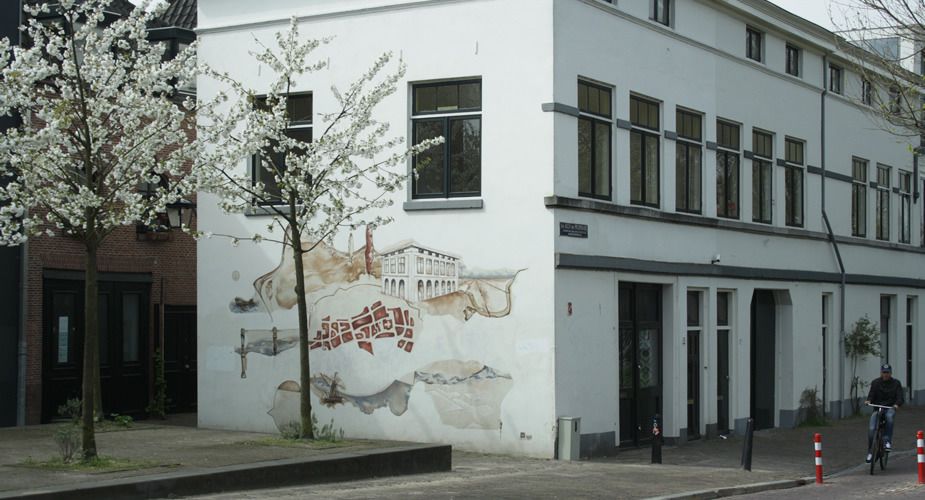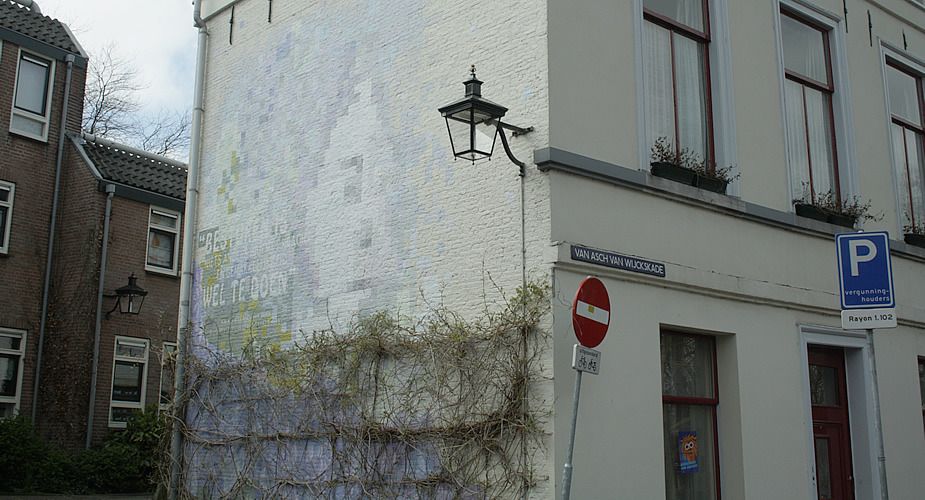 A famous bunny from Utrecht
Can you believe Utrecht's most famous inhabitant is actually a fluffy fictional bunny? But really, we have all grown up reading about her fun adventures: Nijntje, as wel call her. The English call her Miffy. Her spiritual father, Utrecht born Dick Bruna, only recently retired at 90 years of age and has left hundreds of Miffy books for us all to enjoy.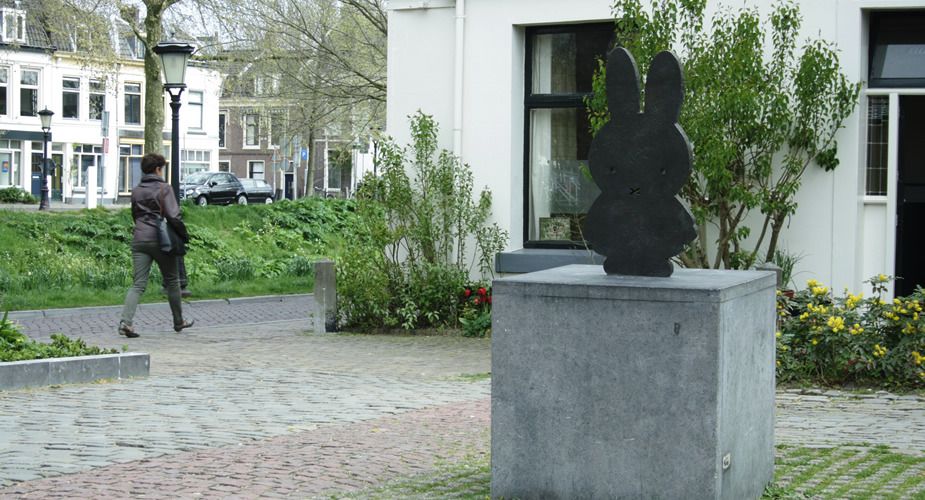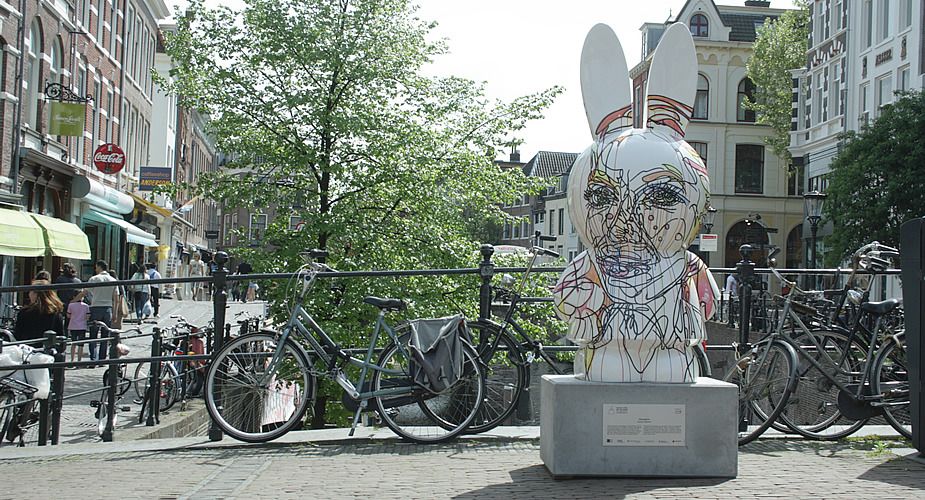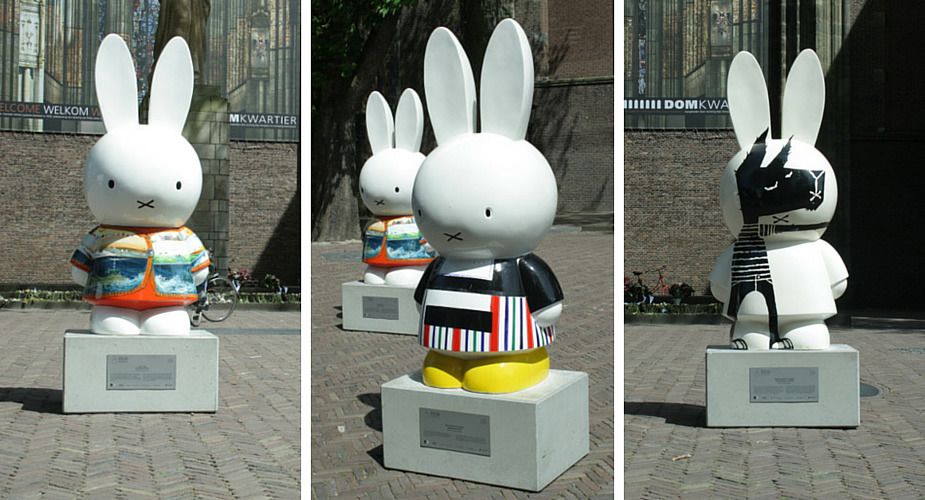 Little fans will have fun with Miffy and her friends at the Dick Bruna museum, whilst the young at heart amongst us can spot Miffy at Asch van Wijckskade and the traffic lights near Bijenkorf department store. To celebrate Miffy's 60th birthday artists have worked hard to give the little bunny more contemporary outfits. A dozen modern Miffy statues can be spotted all over town, like at Neude, Central Station and Domplein. At Nijntje Art Parade on Steenweg you can see and buy miniatures, posters and postcards of all statues available.
Utrecht coffee and beer culture
Over the last couple of years Utrecht has developed a proper coffee culture, with many hip and cool coffee places popping up. I want to introduce you to a golden oldie first, though. The interior design of Stadscafé Broers, with its green velvet chairs and stained glass skylights has an amazing old world charm.
If you're looking for something more modern you can try Blackbird coffee & vintage where shopping for vintage furniture and bikes whilst sipping can be combined. Cornelis in situated in the beautiful Wittevrouwen neighbourhood, is named after the grocer who used to own the building and currently a popular spot for sipping coffee and buying great bread and cake. My personal favourite is Broei, an artistic concept store where everything you see is for sale. There is no set menu; you can eat whatever is available.
In general I steer clear of all the pubs and eateries on Neude, as they're far too busy for my liking. I make an exception for Lefebvre, which was recently picked as the best wine bar in The Netherlands. If you're more of a beer connoisseur, you better try some of Utrecht craft breweries. De Leckere is the most well-known local brewery, which brews organic beers only and has launched a beer to celebrate Le Grand Départ: Tourkoorts. You can taste beers by De leckere in several bars, like Gastmaal Café and Kom Buurten. Another great brewery is Maximus and even though you can taste the beers in many pubs it is worth the detour to visit the actual brewery and taste some of the high hops, IPA's and seasonal beers on offer.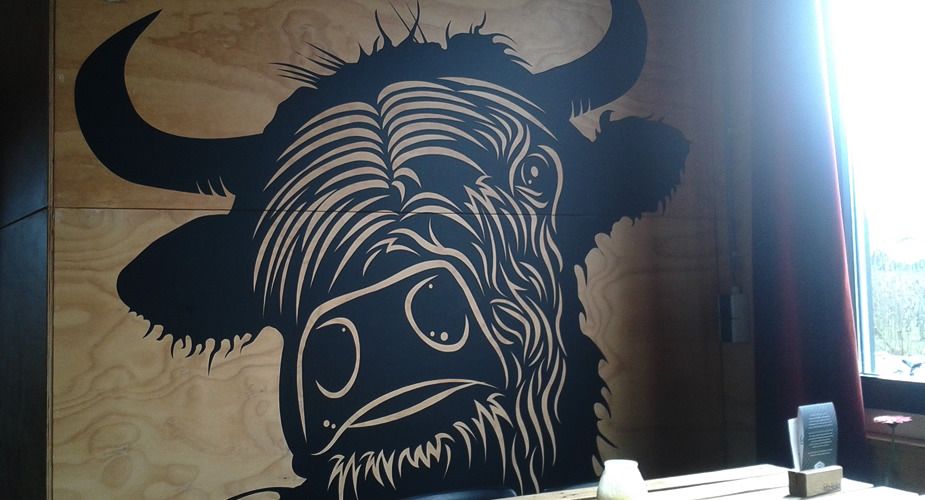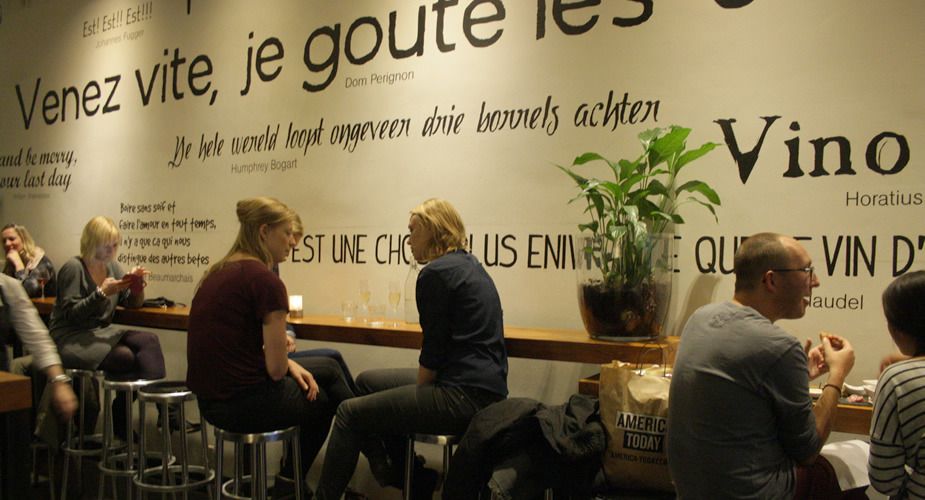 Feel like tasting some modern Dutch cuisine? Hop on bus no.3 to Zuilen for dinner at The Colour Kitchen. This is my neighbourhood favourite! The restaurant is set in a beautiful school building from the 1920's and the concept is pretty much the same as Jamie Oliver's 'Fifteen': young people from different ethnical backgrounds get a little help in launching their careers in gastronomy. And they do it so well. My husband and I picked this place for our wedding dinner! In the city centre, I recommend Kitchen & Deli. As the name suggests, you'll be seated in a deli type atmosphere where you can either choose to taste lots of different cheeses and charcuterie or pick something from the menu, the chefs work with local and organic produce only.
Around town: fortresses and windmills
The easiest way to get around town is by bike, so rent one for a couple of days so you can check the surroundings of Utrecht. Did you know that it's just a 45-minute bike ride to the village that gave Brooklyn its name? Breukelen. If you don't want to cycle that far, you could go as far as Maarssen, which is my favourite Dutch village. Along the way, you'll spot some of the fortresses that Utrecht is famous for, a 300-year-old castle and a couple of handsome windmills before arriving in Maarssen. Here you sit along the winding Vecht river, sip a cool wine and gaze at the mesmerizing gables.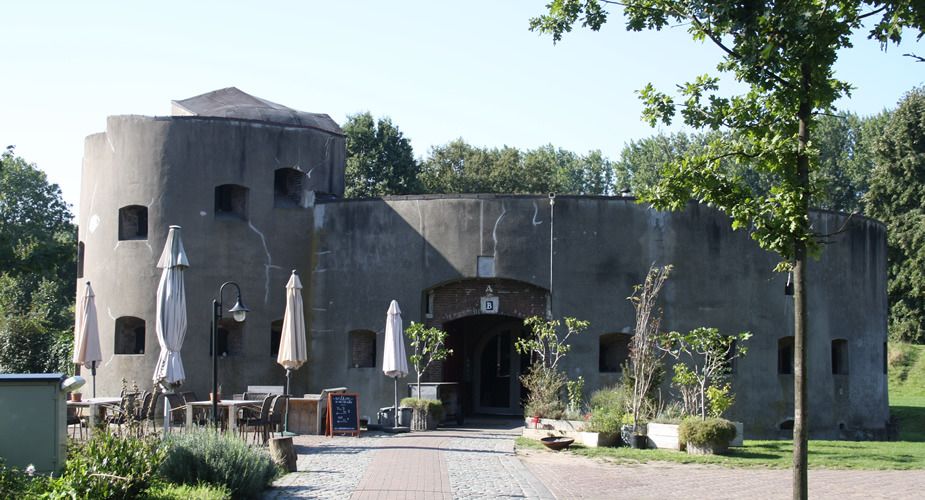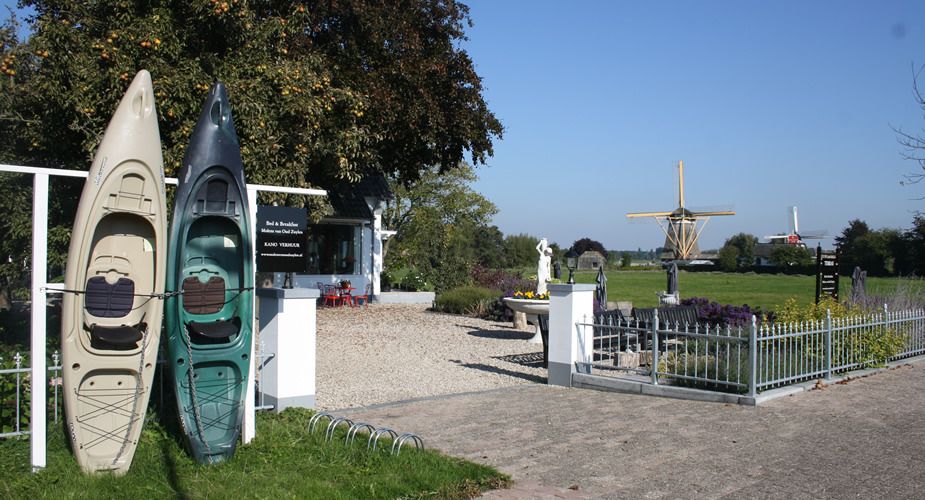 Where to stay in Utrecht? Mary K Hotel
Where to stay in Utrecht? This was actually a tough one for me, as most of my foreign friends always come and stay with me when they're in town. However, I heard some really good things about the Mary K Hotel. So I decided to check it out and really, it's a winner. This old canal house has been completely transformed into a boutique hotel. Every room was designed by a local artist, which gives the place tons of character. The owner, Mary, really values sustainability and she has made sure her hotel is as environmentally friendly as can be: from organic products at breakfast to recycled materials for the rooms.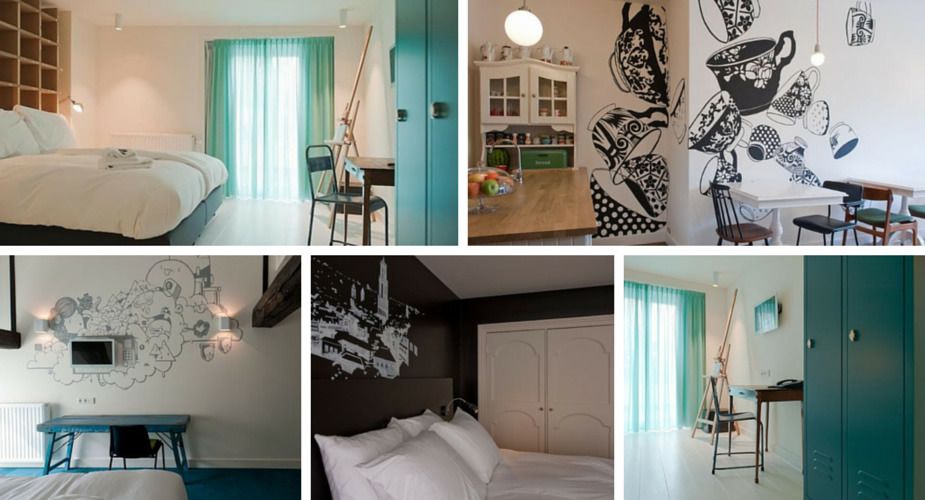 How to get to Utrecht?
Whether you'll be flying into Amsterdam or Eindhoven, it's easy enough to catch the train to Utrecht. The journey from Amsterdam Airport to Utrecht takes a little under 30 minutes.
If you're driving, ask about parking in Utrecht at your hotel or B&B, as this can get quite expensive in the city centre.
Read more about Utrecht, The Netherlands.
So tell me, have I convinced you? Will you come and visit Utrecht?
If you feel like reading more English articles on my blog, hop on over!
Never miss my last updates about the most beautiful city breaks and follow me on Bloglovin'