From the rolling waves of the Atlantic to the high mountains of Serra da Estrela, the centre of Portugal has something for everyone: from swimmers and surfers to hikers and birdwatchers and from art lovers to foodies. For me discovering the de centre of Portugal, meant strolling through some historical undiscovered cities whilst being blown away by the cutting edge street art in Portugal.
I am incredibly biased when it comes to Portugal. Biased as in: being absolutely smitten with the place. I've visited capital Lisbon twice, strolled the steep streets of Porto, tasted the best Port wine in the Douro valley, chilled on a beach in secluded Sesimbra, became enchanted by the Sintra palaces, contemplated moving to a quinta in the Alentejo and spelunked my way through the Algarve shores. But having high hopes can be quite dangerous, especially when visiting a yet undiscovered part of Portugal. I mean, after so many good experiences, something disappointing is bound to follow, right? Right? But I got lucky, once again.
Like many other towns and cities in more secluded parts of Portugal, inhabitants have watched the younger generation exchanging village or town life for the exciting chances of the city. But lately, street art festivals and other creative initiatives have brought back colour to these places, celebrating local tradition, craft art and trade. Check out the most amazing street art in Portugal in 5 cities that you've probably never heard of before.

Art nouveau and gondolas in Aveiro
The setting of Aveiro is definitely spectacular, along a shallow coastal lagoon, which makes it a dream for bird watchers. But the lively, energetic town, is also named the Venice of Portugal due to the network of canals and small bridges. You simply have to hop onto one of the typical, colourful gondolas of Aveiro, a moliceiro, with a cheeky picture on the prow and a religious painting on the back of the boat. But I was particularly smitten by all the Art Nouveau in town.
The region surrounding Aveiro and Porto is pretty much where Arte Nova was born and very well used and implemented, making a visit to the beautiful Art Nouveau Museum a simple must. Street art lovers better head over to the station to see the work of Vhils, who used a special stencil technique for his portrait.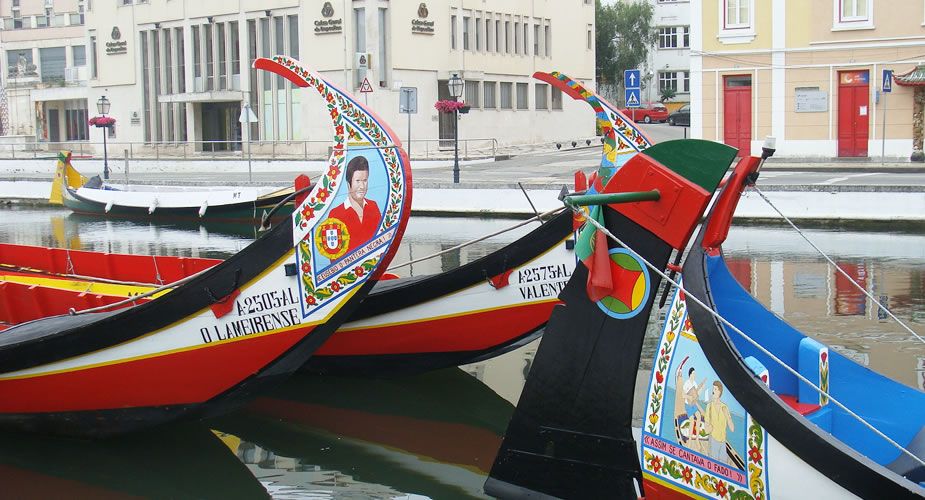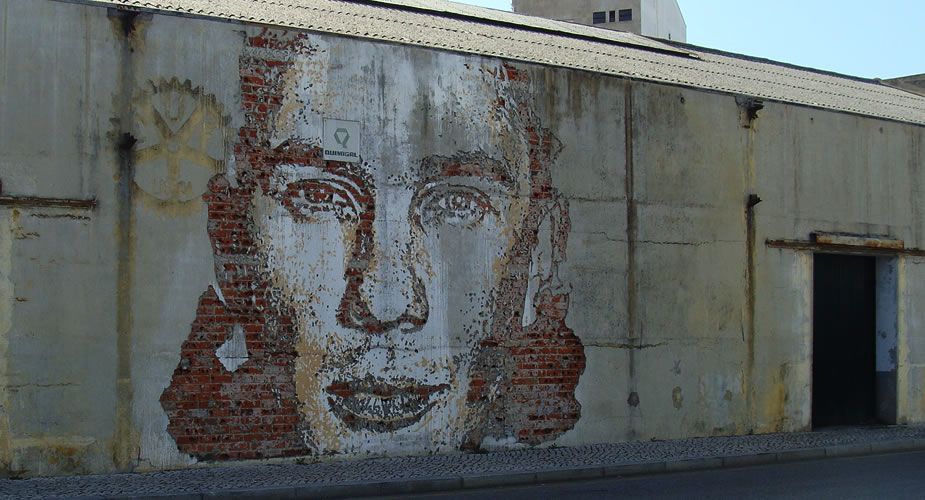 ESTAU in Estarreja
Estarreja is a town that you would probably skip during a roadtrip through Portugal. But thanks to the ESTAU street art festival, you now have a good reason for a stroll around Estarreja. Pick up a city map at the centrally located town hall, so you can find your way to the highlights of town, as well as some pretty amazing art works by Fintan Magee, Kruella and famous Porto born artist Hazul.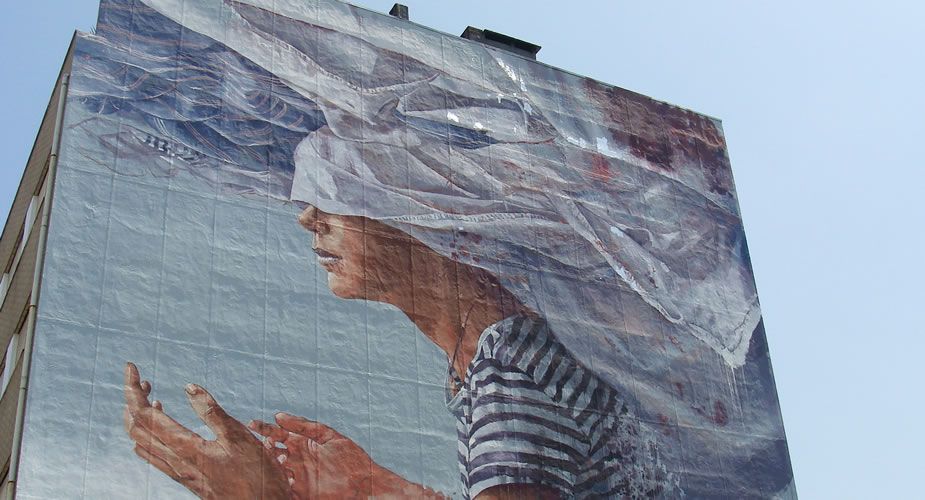 Sizzling Figueira da Foz
Summer crowds enjoy Figueira da Foz, when the sun and high temperatures lure them to the outlandishly wide beach. And although the beach is indeed oh so fine, I was more attracted to all the gorgeous Art Nouveau buildings scattered around town. Plus, thanks to festival FUSING there is now something more to explore in Figueira da Foz all year round. Some of the best street art in Portugal, are right there by the beach. Like the immense work by Pantónio just across the old fortress, the stencil art of Daniel Eime or the vintage Portuguese tile inspired murals by Add Fuel.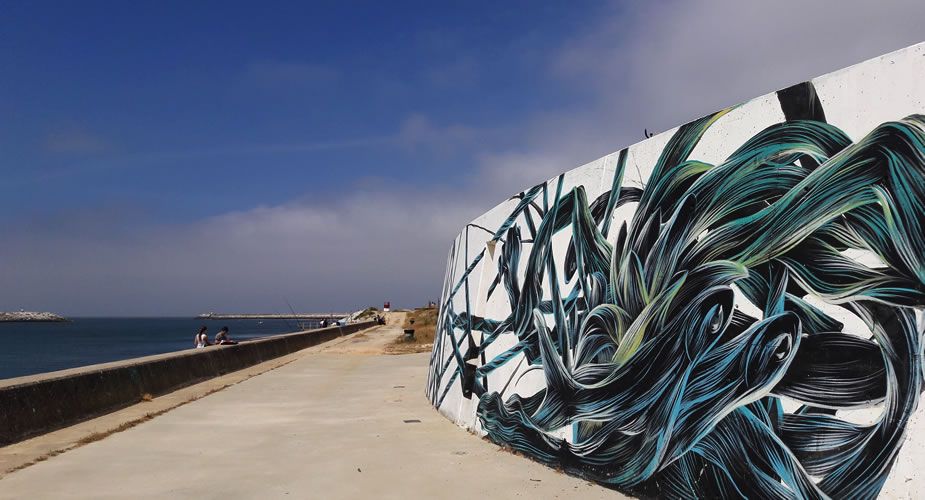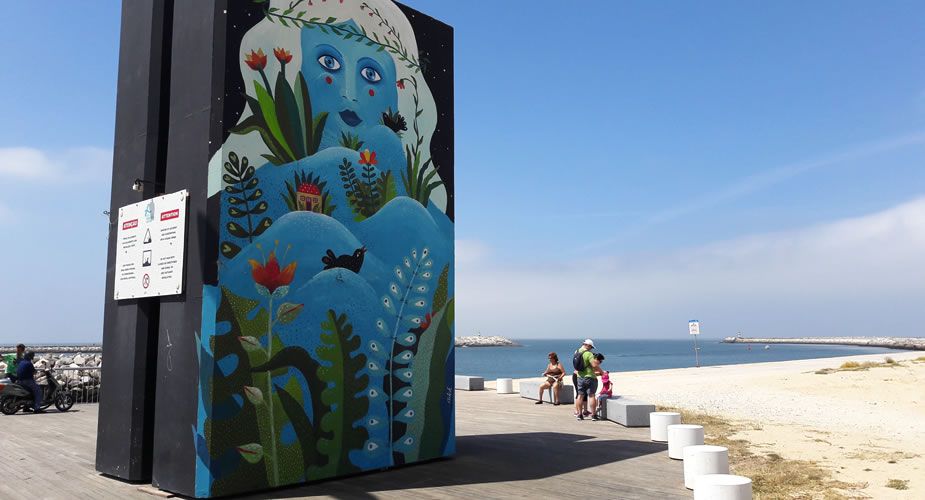 Graceful Viseu
Driving into Viseu, a bit more inland, I was immediately reminded of Evora in Portugal and Salamanca in Spain. The cobbled street, pastel coloured and cast iron balconied houses and shade squares leading up to an impressive cathedral, while people take life slow and enjoy a chat. Exactly the atmosphere I like in ancient southern European cities. In town you can see a ton of wine inspired street art by for example Mario Belem, but just outside the city centre you can spot some murals with a more social and even religious background, by BASIK, Kruella and Breakone.
Viseu is also famous for its gastronomy, and having a glass of red from the near Dão region is pretty much mandatory. In the evening there are many good restaurants to choase from, but I recommend stealing at table at Mesa d'Alegra for some wholesome petiscos (Portuguese tapas).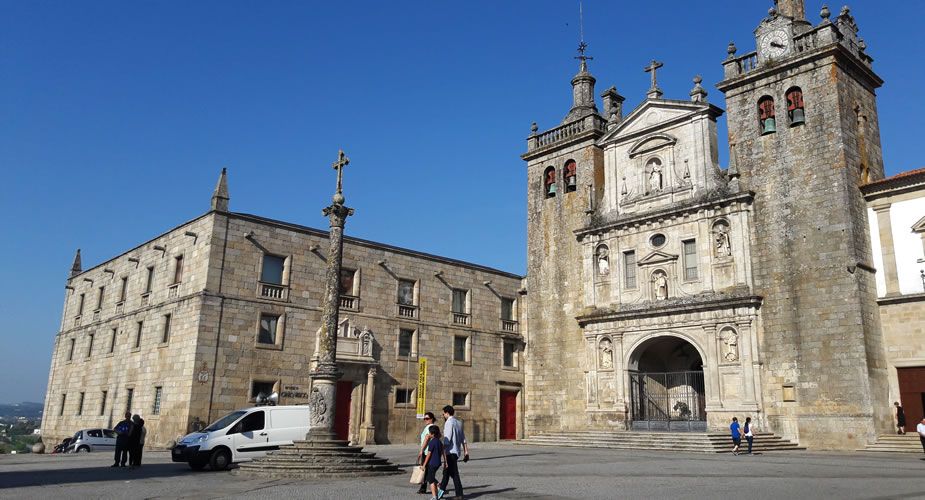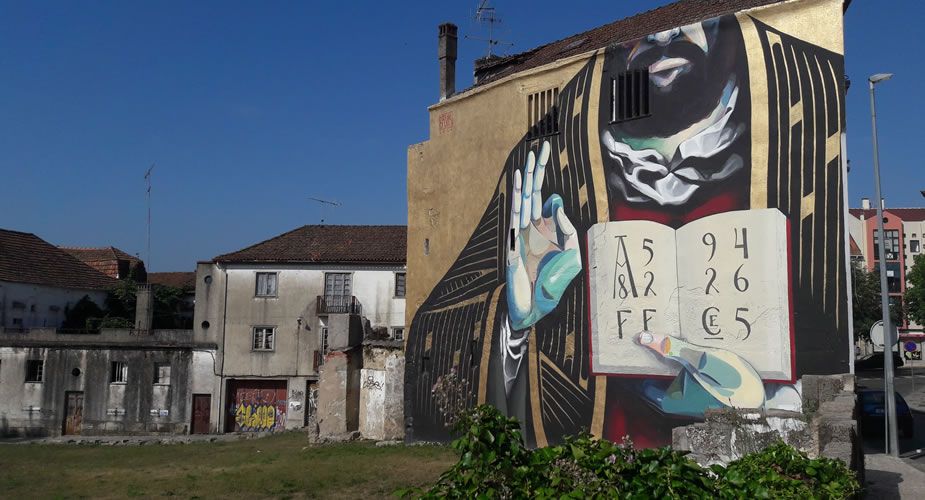 Covilhã: capital of WOOL
If you would've told me I would fall in love with a small city on the back of the Estrela mountains, I would've said you were crazy. But I did. Covilhã is one of those places where you can simply see that people always worked hard, and suffered hard. Covilhã used to be textile capital of Portugal, comparable to Manchester in England, and the town would produce wool, wool products and textiles until decades ago most production lines moved to Asia. The city centre remained desolate, while towns people either moved to the big city or to the lower, newer part of town.
But a couple of years ago WOOL street art festival, organised by locally born Lara Rodrigues, brought both colour and life back into the lovely old town. The murals are all wool or craft inspired, and are extremely deep and intense. I was especially touched by the Arms Collective mural, depicting an Asian worker spinning wool carrying the heavy burden of the textile industry. The contrast with the brightly blue tiled neighbouring church is striking. I think the murals I saw in Covilhã belong to the best street art in Portugal. In the lower part of the city you can visit New Hand Lab, in one of the old wool factories.
Once again, wool from local sheep is dyed and spun here, and young artists and designer now have a workspace in the old mill. It's a creative hub where you can see some art, buy real Portuguese design or simply have a drink.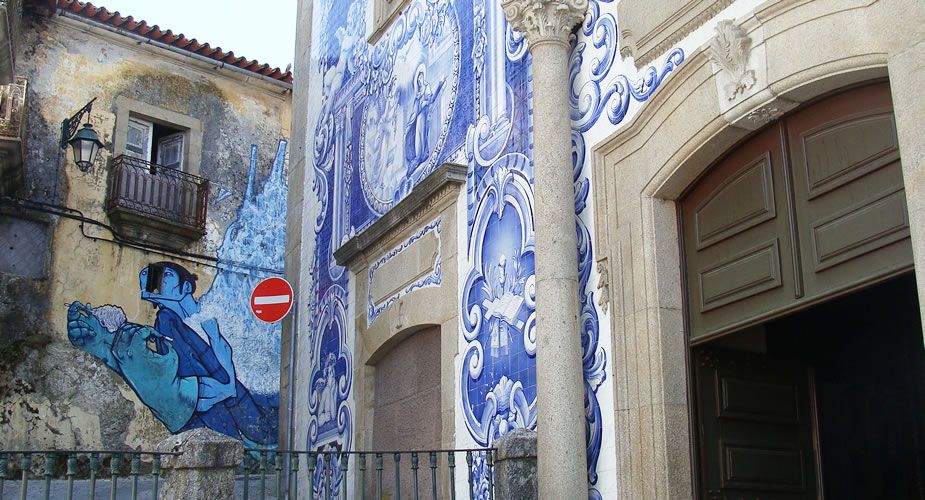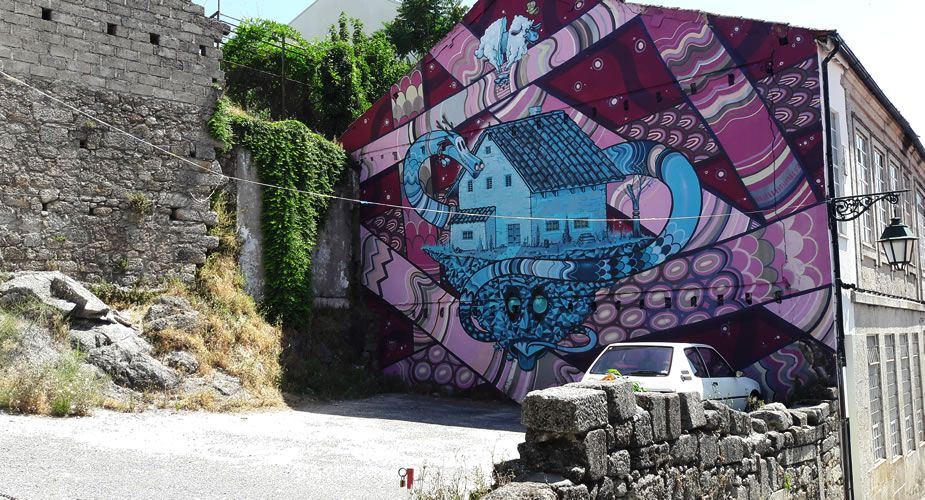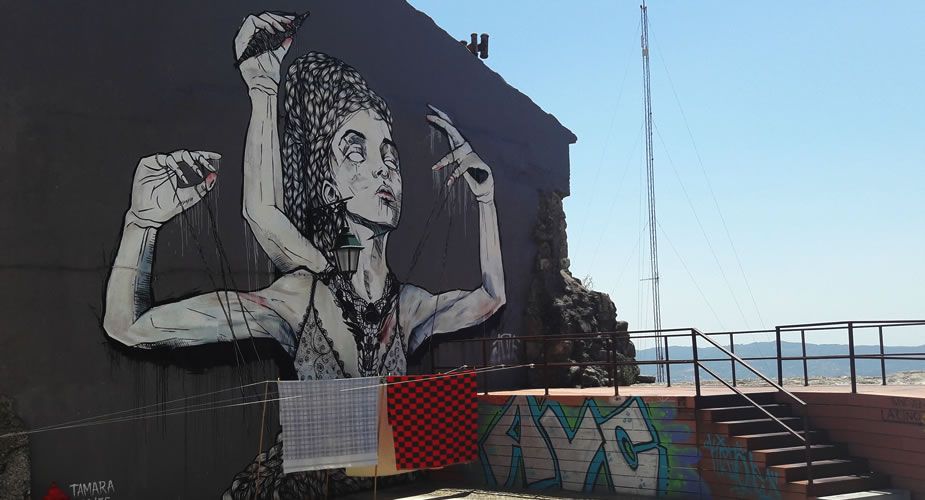 Stay in a Pousada in Portgal
If you ever feel like treating yourself to something nice when traveling in Portugal? Treat yourself to a night or so in a pousada. Pousadas are a network of historical monuments that have been transformed into lush hotels. They are part of Portugal's cultural heritage, so I was very lucky to stay in the Pousada de Viseu on my trip. This impressive 19th century building was once a hospital. My room was on the top floor, with balcony, overlooking the centre of town, definitely a treat to wake up to. There are indoor and outdoor pools to cool you off when it's warm and the breakfast is simply delightful.
Go see some street art in Portugal
To get to Centro de Portugal you can either fly into Lisbon or Porto (check with Portugal's own airline TAP to see if they have some good deals).
Getting to the somewhat larger cities is easily done by train or EVA long distance busses. But it may just pay off to rent a car.
Feel like exploring more in Portugal, please also read my article about how to Spend a perfect day in Porto.
Mooistestedentrips.nl is a Dutch blog, but I also have a selection of articles in English. You can also follow me on Instagram.