Don't worry. I won't tell you to skip the Blue Mosque, Hagia Sophia or Topkapi Palace during your city break in Istanbul. Because really, these are some amazing sights. It is easy enough though, to get completely absorbed by the magic of palaces and bazaars and forget about everything else. Get away from the masses surrounding the top attractions and see these 7 amazing hidden gems of Istanbul.

Plan your trip to Istanbul
7 amazing hidden gems Istanbul
Cihangir: petit-Paris in Istanbul
The first thing you'll see after crossing the Galata bridge from Sultanahmet is Beyoğlu: the European part of Istanbul. This is actually a collection of neighbourhoods and the most vibrant one of them is Cihangir. Just picture side walk cafés, fabulous coffee shops, cream colored buildings with wrought iron balconies, vintage and antique shops and an eclectic bunch of residents. If the street signs weren't so obviously Turkish, you'd definitely think you were in Paris.
The Akarsu Yokuşu street is the beating heart of Cihangir and stuffed from bottom to top with bars and restaurants. Some have the size of a broom closet, with only two tables outside. Others resemble cozy retro living rooms and have plenty of space. Firuz is a great choice for lunch, the terrace is always packed with locals having a chat. In the early evening, have some pre-dinner drinks at either Smyrna, The Alchemist or Kahvedan in Akarsu Yokuşu street. These three bars have with cozy terraces and nice beers and wines on offer. For dinner, try to get a table just around the corner at Savoy Balik, the best fish restaurant in the neighborhood where you'll eat surrounded by locals only.
The Istanbul Modern
One of my favourite hidden gems in Istanbul and my favourite museum in the city. Without a doubt. The location alone is worth the detour. As it's set in the colourful residential area Tophane, which is a popular place for students to live. Hence, the enormous number of bars and cafés. The colonial buildings lining the streets are in various states of disrepair and whisk you back in time to the days of the Oriënt Express.
The Istanbul Modern has an impressive collection of contemporary art, dating from the beginning of the 20th century until current day.You'll be able to admire modernist, impressionist and surrealist paintings and sculptures, as well as installations and modern media. As the icing on the cake, there's the view from the terrace of the restaurant with the best views over the Bosphorus, Topkapi Palace, Blue Mosque and Haia Sophia. Priceless.
Pera Palace Hotel
Greatness. There is no other way to decsribe this hotel in the Pera neighborhood. Tucked away behind the popular shopping street Istiklal Caddesi. Travel back in time to a time when travelers on the Orient Express loved to stay here. To prepare for their journey or to let their hair down after a long trip. Ernest Hemingway would knock back a drink or two in The Orient Bar and Agatha Christie typed up her stories in room 411.
The Pera Palace Hotel has been completely rennovated and has become a complete ode to its glory years. Visiting when you're not a guest is quite tricky, unfortunately. Following Hemmingway's footsteps and hitting the bar is always a possibility of course. But if it's after 3pm you may have a chance of being allowed to catch a glimpse of President Atatürk's room. Walk up to the front desk and ask about the possibilities.
Sweet treets of the Cafer Erol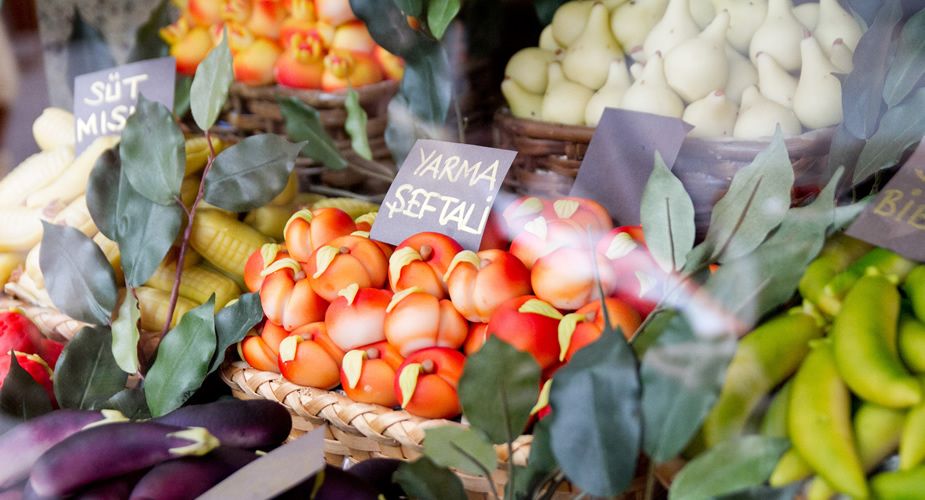 Cafér Erol isn't so much as a hidden gem in Istanbul, as much as a sweet gem in Istanbul. Once you walk in you will not buy Turkish delight in the Bazar. To visit Cafer Erol, take the ferry Kadiköy, the Asian part of Istanbul. The shop isn't far from the quayside. Firstly, sit down for a properly made Turkish coffee and let yourself be charmed by the lovely owner. He will probably talk you into tasting some of his sugared fruits and vegetables. Who knew sugared tomaties could taste so good? Take some sweets, toffees, beautifully made marzipan or Turkish delight with you to enjoy later.
Istanbul village life in Ortaköy
Of all the hidden gems of Istanbul, I think I like Ortaköy best. During the day, Ortaköy is charming and sweet. Shopkeepers sell their beautiful handmade items, residents have an icecream whilst enjoying the views over the Bosporus or have a drink in one of the many cafés. It has this wonderful, snug village feel. But when the sun sets, Ortaköy turns into Istanbul's best place to party. The amount of bars, restaurants and clubs to eat, drink or dance the night away are countless. My favorite was The House Café, with probably the best outside seating in Istanbul. Having a drink whilst overlooking the beautiful Büyük Mecidiye Camii mosque, Bosporus Bridge and the many boats on the river was one of the best experiences I've had in Istanbul.
Brunch at Café Privato
Having brunch is probably the number 1 event in Istanbul on weekends. From 11 am onwards cafés slowly but steadily fill with friends and family meeting for brunch. And why shouldn't they? For a small fee, they can chat incessantly and head for the buffet, go back over and over again until it's time for pre-dinner drinks. So why not join them on weekends? Café Privato is a favourite amongst many locals and the perfect venue to sample locals cheeses, bread, jams and olives. The café is decorated with beautiful Turkish antique furniture.
Visit Otto
No matter when you visit the bustling neighborhood of Cihangir, there's always a fun local crowd hanging out at Otto. The place is a little hidden a bit hidden in a little alley of the Siraselviler Caddesi, under the shade of many trees. The terrace, filled with an industrial mismatch of wooden en wrought iron chairs and tables is a nice place to hang out and relax after a warm Istanbul day. In the evening they serve simple, but great and affordable meals. There's an impressive selection of burgers, pizzas and salads (for me that was a nice break of more modern meals I had had for 3 weeks traveling through Turkey) and the list of wines and beers is also pleasant.
Where I stayed in Istanbul: Mercure Taksim
The first time I was in Istanbul I stayed in the Sultanahment area, the most touristy neighborhood where most hotels are. Now, my hotel there was fine. But there was one problem: I found the Sultahnamet pretty boring at night. Lots of 'tourist menu's' in restaurants and basically, no locals. I pretty soon found out that Beyoğlu is the place to be at night. So many lovely bars and restaurants, a nice mixture of tourists and locals and fun until the wee hours.
I found a perfect place to stay at Mercure Taksim. Despite what the name says, it's not located at the busy Taksim square. And that's a good thing. The hotel is conveniently located 7 minutes from the square in a lovely, quiet and green residential area. Our room was on the 6th floor and just oozed comfort. We just had an amazing view over Istanbul, too. Oh, and maybe the best bed I have ever slept in. A nice perk: it was just a small stroll to the ferry terminal where you can not only take the ferry to Kadiköy, but also catch the tram to Sultanahmet and the bus to Ortaköy. A perfect venue to discover the hidden gems of Istanbul.
What was your favorite place to visit in Istanbul?
Hidden gems in the most beautiful cities
Articles in Dutch