Don't worry. I won't tell you to skip the Blue Mosque, Hagia Sophia or Topkapi Palace during your city break in Istanbul. Because really, these are some amazing sights. However, it is easy enough to get completely absorbed by the magic of palaces and bazaars while Istanbul actually has so much more to offer. If you want to get a little under Istanbul's skin, I can definitely recommend these 7 hidden gems.
7x hidden gems Istanbul
Cihangir: petit-Paris in Istanbul
If you cross the Galata bridge from Sultanahmet you will find yourself in Beyoğlu: the European part of Istanbul. This area is actually a collection of neighbourhoods and the most vibrant one of them is Cihangir. Just picture side walk cafés, fabulous coffee shops, cream colored buildings with wrought iron balconies, vintage and antique shops and an eclectic bunch of residents. If the street signs weren't so obviously Turkish, you'd definitely think you were in Paris.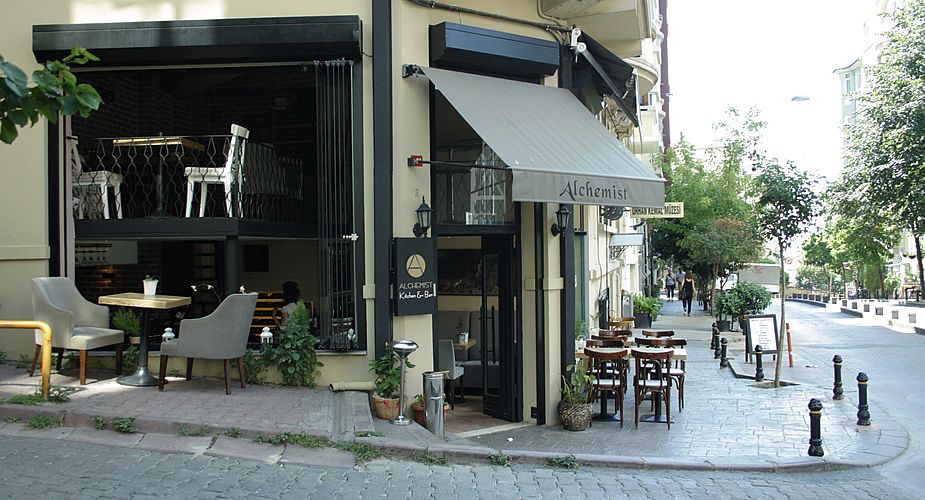 The Akarsu Yokuşu street is the beating heart of Cihangir and stuffed from bottom to top with bars and restaurants. Some have the size of a broom closet, with only two tables outside. Others resemble cozy retro living rooms and have plenty of space. Firuz is a great choice for lunch, the terrace is always packed with locals having a chat and the food is honest and decent. In the early evening, have some pre-dinner drinks at either Smyrna, The Alchemist or Kahvedan in Akarsu Yokuşu street. These three bars have with cozy terraces and nice beers and wines on offer. For dinner, try to get a table just around the corner at Savoy Balik, the best fish restaurant in the neighborhood where you'll eat surrounded by locals only.
The Istanbul Modern
On the Bosporus shores, The Istanbul Modern is hidden. This is my favorite Istanbul museum. The location alone is worth the visit as the Tohpane area in which the Museum is set, is the lively student area of Istanbul and increasing in popularity with tourists. There are many bars and café, but also many colonial buildings, in various states of disrepair, that just make you dream of the days of the Oriënt Express.
The Istanbul Modern has a fantastic collection of modern art from the beginning of the last century to the present. Paintings and sculpures, but also installations and modern media. As the icing on the cake, there's the view from the terrace of the restaurant where you have the best views over the Bosphorus, Topkapi Palace, Blue Mosque and Haia Sophia. Absolutely priceless.
Pera Palace Hotel
'Grandeur', there is no other way to decsribe this hotel in the Pera neighborhood, tucked away behind the popular shopping street Istiklal Caddesi. Here you can travel back in time, to when travelers on the Orient Express would come here. Either to prepapre for their long journey or reflect on the adventures they had. Many imaginative celebrities called the hotel their temporary home at some point in history. Ernest Hemingway would knock back a drink or two in, what is now knows as, The Orient Bar. Agatha Christie typed up her stories in room 411. Oh, to have lived in such a time!
The Pera Palace Hotel has been completely rennovated and has become a complete ode to its glory years. Visiting however, when you're not a guest, is quite tricky. Of course, you can always follow Hemingways footsteps and hit the bar, but you can also walk upto the desk and ask to see the room of president Atatürk. This is often possible after 3 in the afternoon. And while you're being taken up to the old presidential suite, you'll have a little tour of the hotel anyway.
Coffee and sweets at Cafer Erol
Forget buying Turkish delight at the Bazaar! Get yourself onto the ferry boat to Kadiköy, the Asian part of Istanbul, and have a cup of coffee at Cafer Erol. Okay, this is actually a sweets shop. But their enormous and crazy selection of sweets will leave you gasping for a while, so you might as well sit down and have a cup of Turkish coffee. Here you find sugared fruits and veggies, that you didn't know could be sugared. Sugared tomatoes, pickles, zucchinis? Sure, why not. If it's a fruit of vegetable, it can be sugared, must be the motto of cafer Erol. But there is so much more to see, like rows and rows of glass bells filled with sweets, toffees and sirups, glass cases filled with Turkish delight and massive amounts of beautifully made marzipan. It's impossible to leave without buying something.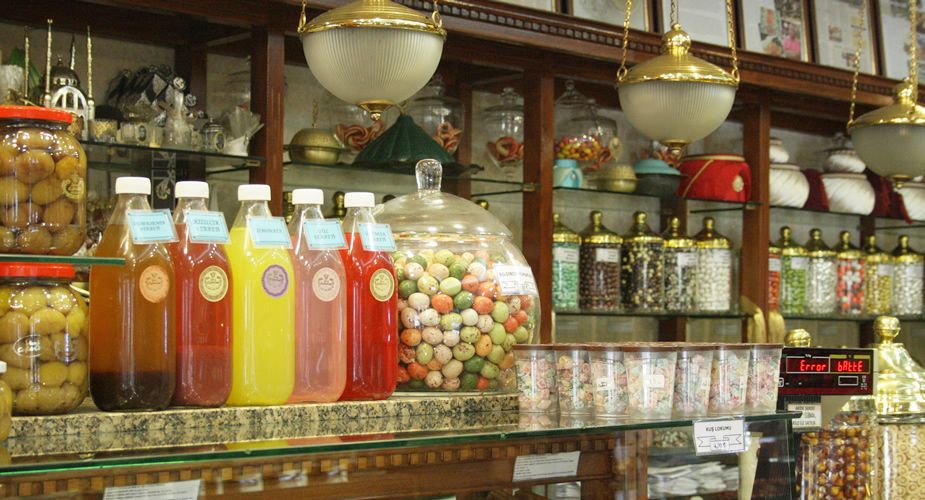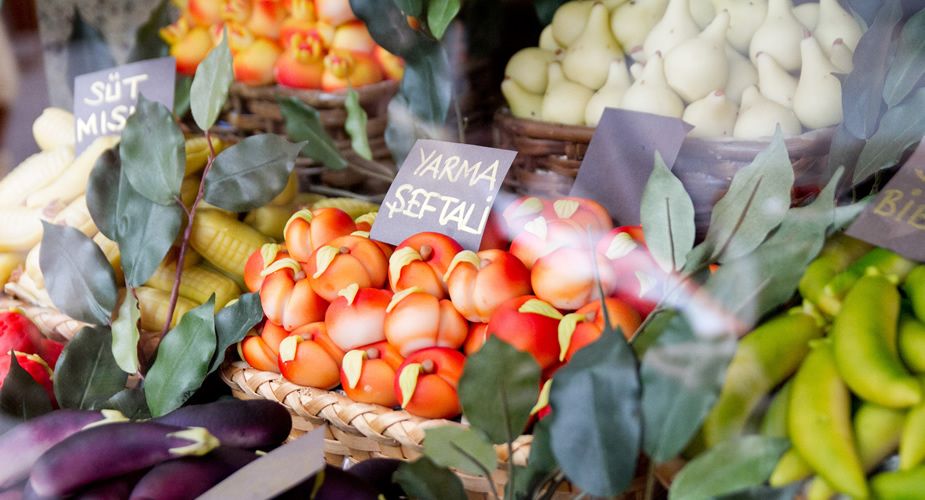 Discover Ortaköy
In the daytime the Istanbul neighborhood Ortaköys is charming and sweet. The cobblestones are shining in the sun, the shopkeepers sell their beautiful handmade items and residents eat their kumpir (baked potatoes with yummy filling) before having a drink on one of the many terraces. When the sun sets, Ortaköy becomes the place to be if you like a good party. There are many nice bars, clubs and restaurants to drink or dance the night away. My favorite was The House Café, with maybe the best terrace in Istanbul. Overlooking the beautiful Büyük Mecidiye Camii mosque, Bosporus Bridge and the many boats on the river. The café has great food, fabulous wine and buzzing atmosphere on offer.

Brunch at Tarihi moda iskelesi
Having brunch is the number 1 sport in Istanbul on weekends. Every Saturday and Sunday at around 11 am you'll see cafés and restaurants slowly, but steadily, fill up with families and friends. They all pay a small fee, chat incessantly and head for the buffet, and keep going back over and over again until it's almost time to have pre-dinner drinks. So when in Istanbul, do as the Istanbulites and have brunch on weekends.
One of the best places for brunch is at the end of the pier in Kadiköy, set in a beautiful pavilion, overlooking the See of Mamaris: Tarihi moda iskelesi. On weekends this place is crowded with groups of friends catching up or having a (very well behaved) stag party The brunch buffet is scrumptious, so pile up that plate and go back for more, at least once or twice.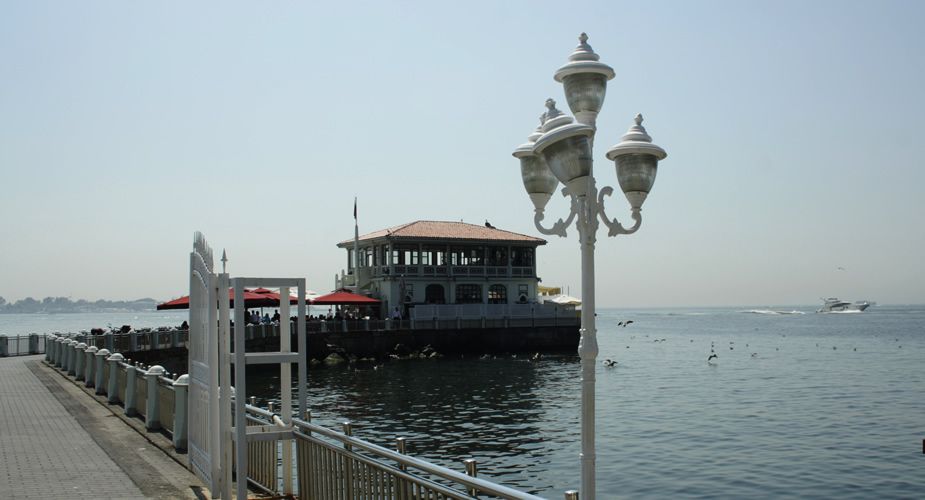 Visit Otto
As said: Cihangir is the place to be in Istanbul. And no matter at what time you're in the area, you will always find a fun local crowd hanging around at Otto. The place is a little hidden a bit hidden in a little alley of the Siraselviler Caddesi, under the shade of many trees. The terrace, filled with an industrial mismatch of wooden en wrought iron chairs and tables is a nice place to hang out and relax after a warm Istanbul day. In the evening they serve simple, but great and affordable meals. There's an impressive selection of burgers, pizzas and salads (for me that was a nice break of more modern meals I had had for 3 weeks traveling through Turkey) and the list of wines and beers is also pleasant.
Where I stayed in Istanbul: Mercure Taksim
The first time I was in Istanbul I stayed in the Sultanahment area, the most touristy neighborhood where most hotels are. Now, my hotel there was fine. But there was one problem: I found the Sultahnamet pretty boring at night. Lots of 'tourist menu's' in restaurants and basically, no locals. I pretty soon found out that Beyoğlu is the place to be at night. So many lovely bars and restaurants, a nice mixture of tourists and locals and fun until the wee hours. So, this time I was going to stay in Beyoğlu.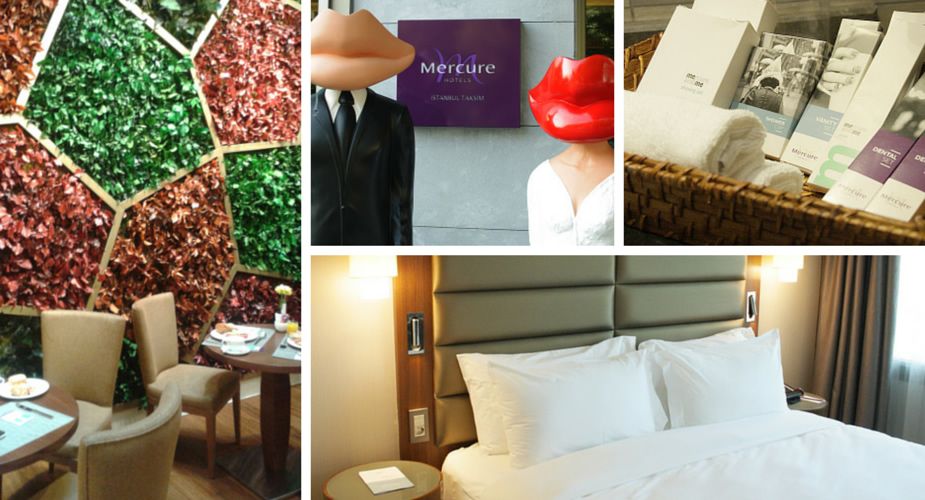 I found a perfect place to stay at Mercure Taksim. Despite what the name says, it's not located at the busy Taksim square. And that's a good thing. The hotel is conveniently located 7 minutes from the Taksim square in a lovely, quiet and green area. The hotels opened its doors earlier this year and everything was brand new and just oozed comfort. Our room was on the 6th floor and we just had a great view over Istanbul. Oh, and maybe the best bed I have ever slept in. And this was a nice perk: from the hotel, it was just a small stroll to the ferry terminal where you can not only take the ferry to Kadiköy, but also the tram to Sultanahmet and the bus to Ortaköy.
What was your favorite place to visit in Istanbul?
Would you like to read more of my articles? Check out the list of English articles. If you have any questions? Never miss something new? Just follow me on Bloglovin'.